Surfacide Inc. chooses GrowthMedics for their European Expansion
Surfacide Inc. one of the worldwide leading UV-C disinfection manufacturers with hospital installations in close to 20 countries worldwide, has chosen GrowthMedics to enter and develop the European market.

Surfaces multiple light-emitters increases the efficacy of killing pathogens and increased productivity in clinical workflow
Being the only patented UV-C surface solution to use multiple light-emitting robots to rapidly inactivate and reduce the spread of dangerous pathogens, With this technology Surfacide is able to address shadows and therefore kill pathogens in difficult to reach areas, being positioned loser to all surfaces resulting in a more efficient disinfection cycle and providing one of the fastest cycles and increased staff productivity times.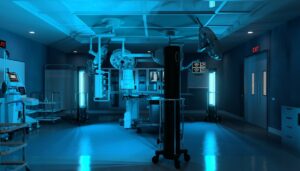 The European team in training
"We are proud to partner with a leading innovative manufacturer that has the capabilities to provide evidence based unique features that focuses not only on killing pathogens but on the hospitals' workflow. There are many UV-C disinfection companies out there. Surfacide  Inc. has studied the shortcomings and proved in hundreds of installations worldwide their superiority and customer satisfaction. We are excited to be part and contribute to the global growth objectives of Surfacide" – Emre Aykac (Managing Director, GrowthMedics).
The partnership will be rolled out across various stages and start in selected European countries. A dedicated multilingual European team will be installed that has strong experience and a network in the European UV-C distribution and hospital market to accelerate the launch of Surfacide in Europe. The team will act as Surfacides European Sales Force and will be responsible for the European sales and marketing activities. The team has been trained and a market growth plan has been implemented to ensure a successful launch.
"We are excited to focus more on how we can help customers throughout Europe.  Surfacide has been adopted as the preferred solution for UV-C Surface Disinfection in many parts of the world and , we look forward to collaboration with our team at Growth Medics to offer a superior solution to more leading hospitals and customers in Europe." (Jeff Veenhuis – President & CEO Surfacide Inc.)
European sales contacts
Hospitals and distributors in Europe interested in more information or an online/offline demonstration can contact Surfacide Europe's European office:
Surfacide Europe
Plesmanweg 9
7602 PD Almelo / The Netherlands
T: +31 85 004 43 19
@: europe@surfacide.eu
About GrowthMedics
GrowthMedics is a leading growth service provider exclusively for worldwide medical device manufacturers wanting to enter and expand their presence in European and Middle-Eastern healthcare markets.