Optimizing your international medical device distributors
You may or may not have had your annual sales meetings with your distributors, if you haven't it's a critical moment to set out plans, targets, required support expectations for a mutual successful year. 
Distributors are a key part of your organization as they represent your brand and you as a manufacturer rely heavy on the sales success they will achieve. Often the role of a distributor is underestimated, and we experience distributors are underserved.  
Manufacturers providing the right support and attention to distributors and having their internal organization's infrastructure setup that way, achieve excellent channel partner performance. 
Assessing your internal strengths and weaknesses
In order to determine the resources required to support distributors you need to understand the asks, challenges and opportunities from your distributors in their territories. This will allow to assess what can be implemented and what not so distributors understand what to expect.  
Often times the distributors are left by themselves to develop and execute a market development plan. Even though the expectation of a distributor is to develop the market, the knowledge, expertise and network of the manufacturer is invaluable in this process. Therefore, having a process in place internally to support these activities are key.  
Distributor Optimization framework to achieve channel partner excellence
In our other blogs you can read about distributor strategies and types of distributors. This model will apply to any distribution model and presents a framework for the manufacturer and distributor. By working on this framework as a checklist and implementing the needs associated to support growth in local markets, a stronger partnership and aligned expectations will occur.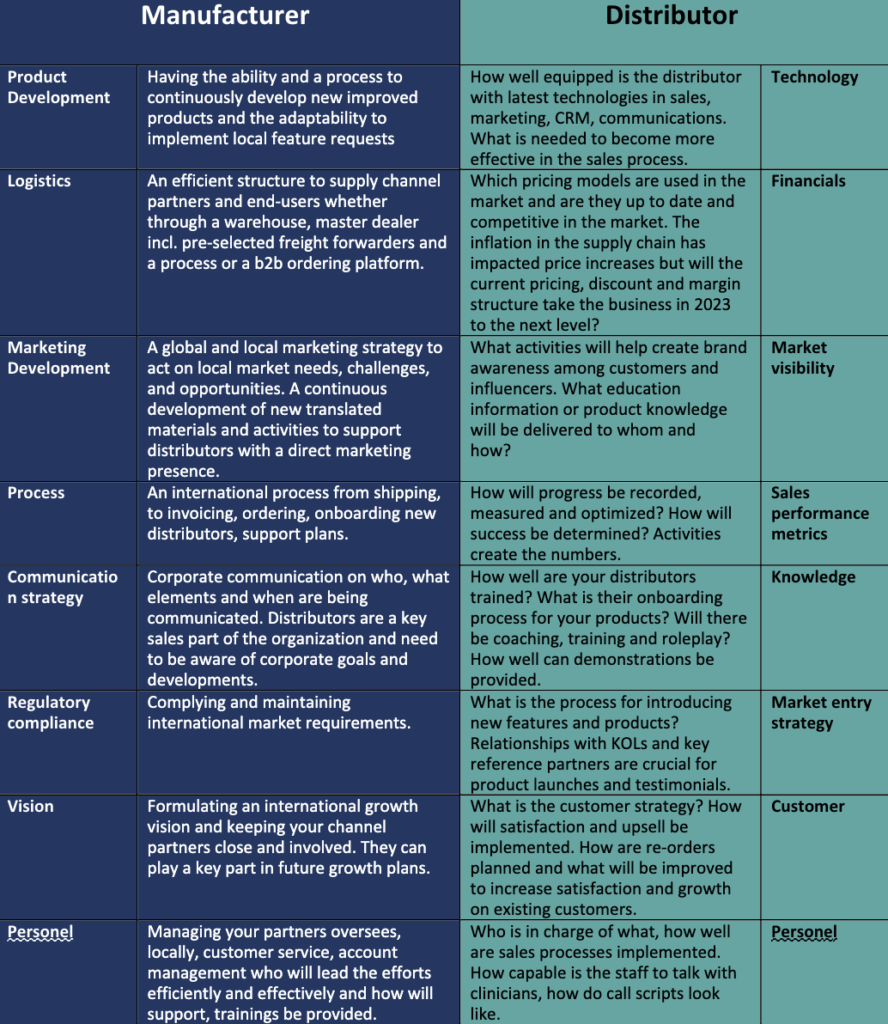 Distributor onboarding processes
The frameworks shows that having processes and communication is key to achieve the desired success. This framework mainly focuses on managing the infrastructure for existing distributors but as existing distributors the onboarding of new distributors is very important. The better distributors are engaged and started from the beginning, the more efficiently and successfully they will represent you in their territories.
An example of sequences and simultaneous steps for onboarding distributors is listed below:
Outbound lead calling and appointment setting scripts and trainings 
Have a shared Onedrive / dropbox folder continuously updated with all relevant documents 
Have a sales and marketing plan with milestones in place from the start  
Have a format to share other distributor successes with new distributors 
Structure for Phone/video calls with distributor sales and marketing key contacts 
Schedule and attend onsite training and marketing meetings with distributor teams  
Plan for congresses and on-site support needed  
Use email for all key contractual documents as attachments  
Attend initial demos in the field with distributor KOL's 
Teach how to counter competition and pricing conditions  
Negotiation of contract and initial order including demo and repair support units 
Support distributors and end-users with whatsapp group support channels 
Monitor and support with rapid response for all protocol and marketing questions 
Plan reorder cycles with distributor price and bonus negotiations 
Growing your European and Middle Eastern healthcare distributors 
GrowthMedics has been specialized and have worked with hundreds of distributors and access to thousands in the European and Middle Eastern markets. Having developed growth through channel partners for numerous worldwide medical device manufactures, we can support with the development and management as your local sales force in these markets.  
If you have any questions or are looking for distributor development support feel free to reach out to us or book a meeting with us here. 
Check out our other blogs about distributor strategies.