Have you ever wondered where medical professionals gather to exchange revolutionary ideas, learn about cutting-edge technologies, and network with the best in the industry? The answer lies in global medical tradeshows. These events are not just conferences; they are the epicenters of medical advancements and innovation. 
At GrowthMedics, Our area of expertise is assisting producers of medical devices in entering and growing the European and Middle Eastern markets. Being aware of the locations and methods by which the medical sector meets to determine its future is essential to attaining this progress. Ever wonder where the top minds in the medical field come together to network, share innovative ideas, and learn about the newest technologies? International medical tradeshows have the solution.
The Importance of medical tradeshows:
1. Benefits for Education: Medical tradeshows are knowledge gold mines. These are forums for discussing the most recent findings, innovations, and advancements in medicine. You may stay ahead of the curve in your industry and stay at the forefront of medical science by attending these events.
2. Regulatory Compliance Insights: Understanding the EU's Medical Device Regulation (MDR) and In Vitro Diagnostic Regulation (IVDR) is critical for market access. These events often provide sessions and expert access on navigating these complex regulations.
3. Exposure to New Products and Technologies: Tradeshows are the best place to be if you want a first look at what healthcare may look like in the future. Modern medical technology and creative healthcare solutions are on display at these events, showcasing the best and newest offerings in the sector.
4. Sales and Lead Generation: These events can directly contribute to sales through on-site deals and can be a significant source of lead generation, with the potential to meet a large number of prospects in a short time.
Why attend medical tradeshows in 2024?
 1. Developments in Medical Science: Keeping up with the latest developments in medicine is more important than ever. Attending the 2024 tradeshows is essential for everyone who wants to stay updated because they will include the newest advancements in medical science.
2. Post-Pandemic Relevance: Healthcare has changed as a result of the COVID-19 pandemic. Exhibits at trade exhibitions in 2024 will play a key role in investigating these shifts by providing information on public health programs, pandemic response systems, and innovative healthcare tactics.
3. Global perspective: Attending these events provides you with an international perspective on medical norms and practices. This viewpoint is necessary to comprehend and apply a variety of efficient healthcare strategies.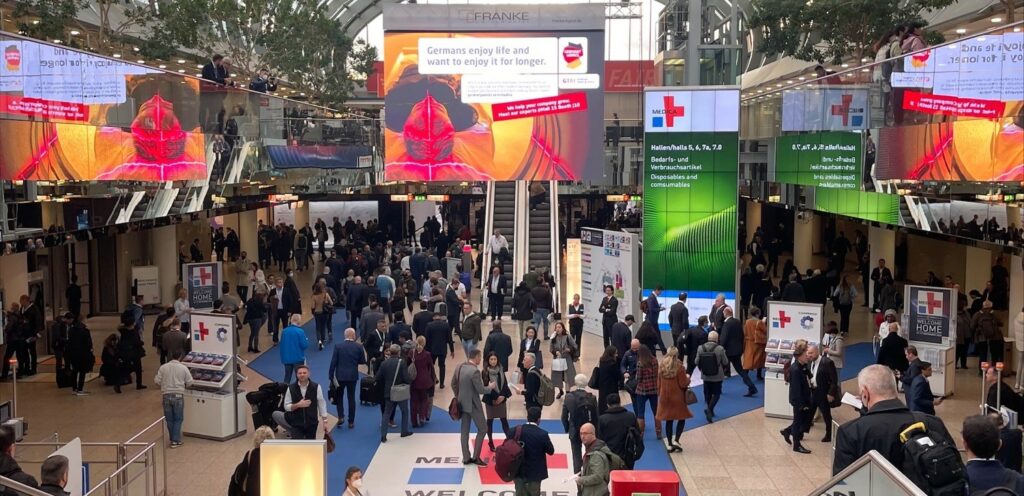 Tips for Maximizing Your Tradeshow Experience
1. Planning ahead: Make a plan in advance and choose tradeshows based on your interests and area of expertise. In addition to ensuring you don't miss any important events, early preparation improves logistical management.
2. Establishing Objectives: Whether your goal is to learn about a new product, network, or gain knowledge in a new profession, have specific goals in mind. Your actions will be guided by this emphasis, which will increase the value of your experience.
3. Engagement Strategies: Participate actively in seminars, workshops, and panel discussions as one of the engagement strategies. Make no reluctance to engage with speakers and exhibitors; these exchanges may yield insightful information and beneficial chances.
TAKE A LOOK AT SOME OF THE UPCOMING TRADESHOWS IN 2024 !!