Culture plays an integral part in shaping values, attitudes, behaviors, and lifestyles. It determines how we talk, walk, think, eat, work, and interact with others. Simply put, it affects every aspect of our lives, including our buying and selling decisions. The cultural selling differences in Europe are varied and impacts how successful a business can be when entering the European market.
Every country in Europe—and even regions within these countries—has a unique culture. Understanding these differences will help marketers and businesses adjust to the mindset of international consumers and develop effective, customer-centric sales strategies.
If you're planning to take your business to Europe, you must be aware and learn about the cultural selling differences in the region.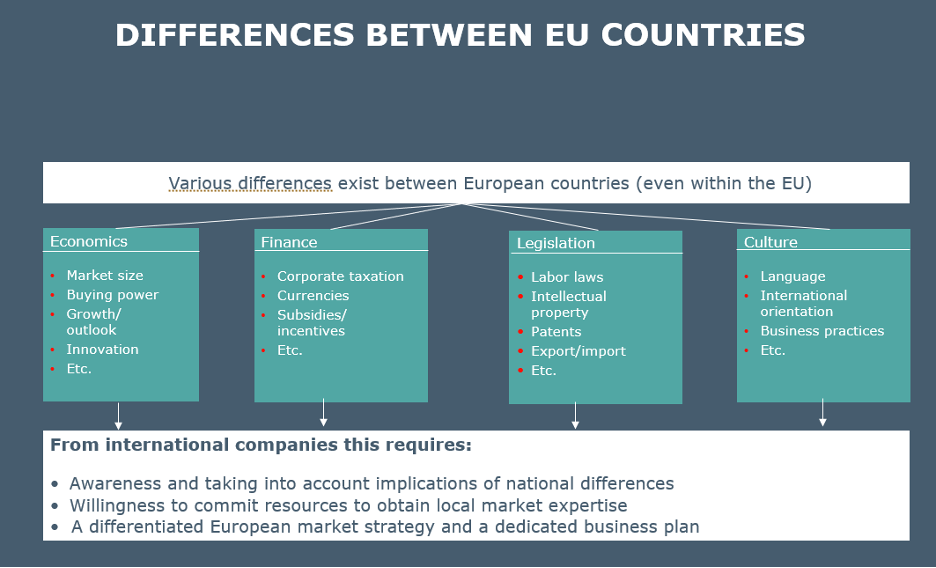 Overall Cultural Differences in the European Union
The European Union has 27 member states with vastly different cultures. Norms and habits in Germany may be taboo in France or the Netherlands.
Some common cultural differences unite the EU. They include:
Language Differences
Despite English being the primary language of the international business world, it is best to study the linguistic nuances of the different European nations. For example, there are many nuances and variations between British English and Irish English.
This means you cannot do a word-by-word translation of your marketing content and be done with it. Studying the different European languages and relevant local phrasing will help you avoid miscommunication. More importantly, you can make a good impression on your European clients, who will appreciate your efforts to meet them where they are.
Modest Marketing Tactics
European marketing tactics are more subtle, unpretentious, and direct than the US. Strategies that attract and engage Americans which may be considered abrasive, annoying, or distasteful in the EU.
Use an abstract approach and a softer tone when marketing to European audiences. Packaging must also be clean and streamlined instead of bold and cluttered with too many details.
Lasting Relationships
Cultivating business relationships in the EU can take time. But once you strike a partnership, it will last for years, decades, or even a lifetime. Be patient when approaching European business partners and customers. Take it slow so you don't come across as forceful or disrespectful.
Overall of Cultural Selling Differences in European Countries
Here are some critical cultural selling differences in some of the biggest European markets. The European market is a fragmented market with each its own economical, cultural and legislative framework.


Below is an image of cultural dimensions by EU country which shows different valuations of each dimension by EU country and illustrates the differences by country.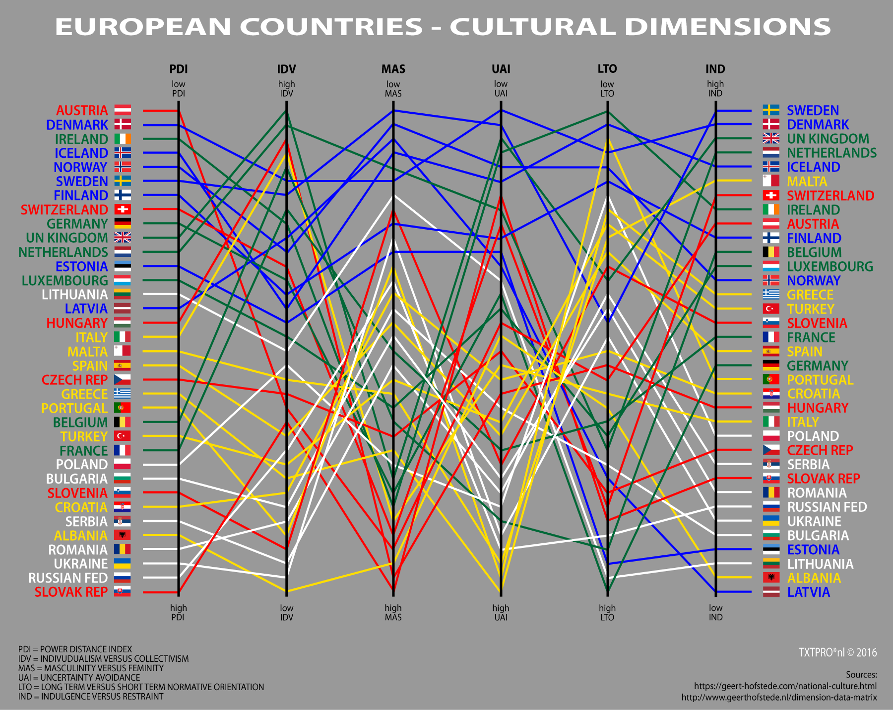 Italy
In Italy, most marketing content has a casual, informal tone unless it's a legal or financial product or service. Italians have a great sense of humor and appreciate it in the brands they support. Amp up your humor quotient but avoid graphic jokes.
Italians use their mobile phones quite a lot, even in business or formal settings. Don't be surprised if your client answers a call in the middle of a meeting.
Avoid sensitive topics like private family issues, personal income, the mafia, and politics.
France
In France, the marketing tone is formal yet friendly. You can be playful in your marketing campaigns, but never when addressing clients individually.
If you want to connect with a French business, reach out to someone at the same hierarchy level as you. Consider leveraging someone from within your network to get a warm personal introduction.
Germany
Germany has strict anti-corruption laws that restrict promotional offers like Buy One Get One Free. Nonetheless, most marketing materials and products—except financial and legal products and services—are presented informally.
Use a formal, direct, and detail-oriented approach and tone when communicating with German customers and business associates.
Germans value their privacy, so provide strong security features if you want them to share payment details and other sensitive information.
Spain
Spaniards are warm and hospitable, so you can use an informal and friendly tone for marketing.
Note that people from South Spain are more laid-back than their more serious and business-minded northern counterparts. Southerners love discounts and promotions, while northerners do not care much for them.
United Kingdom
UK customers are usually wary of sales representatives. Be mindful of hierarchy when approaching customers and business contacts.
Avoid leading with personal details when you contact someone for the first time—this is considered highly intrusive. Start with neutral topics like the weather or traffic.
The Takeaway
Entering a new market, especially one as diverse as the EU, can be intimidating. But an open mind and an eagerness to learn will help you succeed. Study the cultural and linguistic differences so you can adapt to the European way of doing business.
GrowthMedics is a leading market development provider that helps medical device companies take their businesses to Europe. If you need assistance to expand in the EU, contact our team of experts and get a free market scan.
Check out Growth Imports for all your import and export needs. GrowthImports is an ISO13485 regulatory and fiscal import partner in Europe and the United Kingdom for worldwide medical device manufacturers.